Testimonials
These are a few comments by our customers, please see our Facebook page for many more pictures and stories.
"I have used it on a number of horses here including my own horse and have found it to be excellent because of its immediate release of pressure. I also found that, with my own horse that transferring form bit to bitless and vice versa works seamlessly. So I'd happily recommend it to anyone wishing to go bitless, very best wishes, Andrew" - Andrew McLean, CEO Equitation Science International (ESI), Honorary Associate, University of Sydney, Honorary Fellow, International Society for Equitation Science (ISES)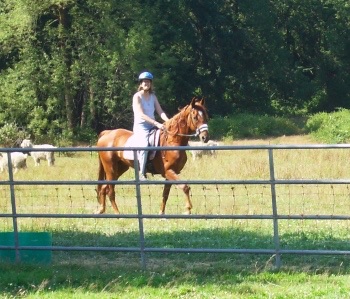 "Just picked up the bitless bridle from the post today and tried it out on my spirited, greenbroke, 5yo saddlebred gelding. What a wonderful experience. He was relaxed and quiet in his mouth. What a difference. It's like I got a new horse too! Thx for providing a great tool." - Lisa, USA
'I recently purchased the orbitless bridle from Bitless horse co uk. I was able to discuss buying the bridle first with Wendy Wainwright who gave me thorough advice about how the bridle can be used and the suitability of it for my particular horse's problems, her after sales service was very helpful too. The bridle is well designed and of a very good quality.' - L. Owen.
"Excellent Product - Just to let you know that the orbitless bridle is going down a treat we went round a course of jumps in it on thursday and all ive got to say is WOW as me and my pony are learning so many different things with it. Very pleased." - Zoe, UK