Orbitless Sizing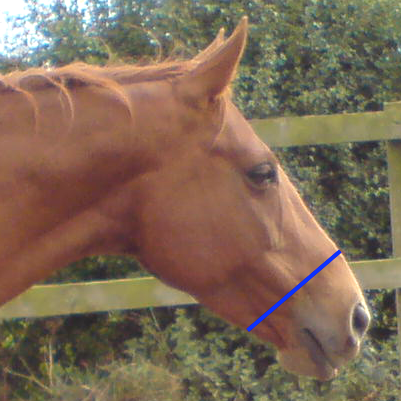 The Orbitless Bridle is available in 3 sizes for the leather version and 4 sizes for the Beta.
Each size has plenty of adjustment for the perfect fit. To find the correct size measure round your horse's nose midway between the prominnent cheekbone and the corner of the lips.
As an approximate guide:
Pony - pony to small cob

Arab/cob - arab and cob

Horse - large cob to medium horse

Warmblood - large horse and warmblood
Orbitless Size Chart
Pony - 43cm - 57cm (17" - 22.5")

Arab/Cob - 48 - 62cm (19" - 24.5")

Horse - 52cm - 65cm (20.5" - 25.5")

Warmblood - 61cm - 75 cm (24" - 29.5")
These sizes should fit the majority of horses. However sometimes a different arrangement is needed.
For example: Ponies with chunky heads such as Exmoors may need a horse sized chinpiece with a pony noseband. Arabs with fine jaws may need a horse sized noseband but with a pony chinstrap. I am happy to mix and match straps to fit your particular horse or pony.
Special sizes: I have arranged to make a shetland sized set and an extra large set for horses and ponies who fall outside the standard sizing. Please get in touch if you want to discuss a special sized orbitless.