How it is made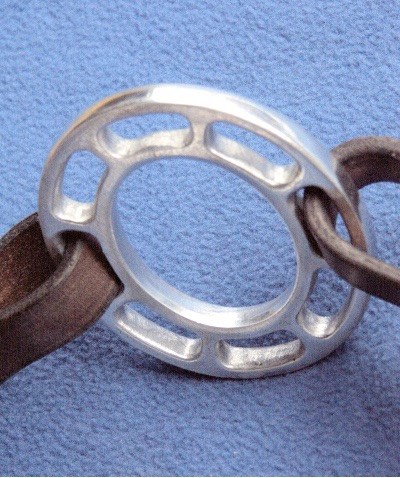 As an Engineer working within the manufacturing sector I was sure that the manufacturing was to be kept within the UK, I wanted to support small British businesses. All the metalwork, the polishing and the leatherwork is made in the UK and it is all handmade.The metal rings are aluminium alloy, they needed to be strong but I did not want the weight of stainless steel. The lightweight rings allow for extra feel and is an important part of the design. As each face and edge is rounded for comfort the only viable way for them to be made is casting. I use a small specialist casting company who make them from patterns (machined and then painstakingly filed, emeryed and polished until each edge was round) which are perfect rings that can be used over and over. There are a set of 6 on the pattern board and each one took many hours of hand finishing to perfect it.
Occasionally the sanding process produces blemishes in the rings, these are polished out but sometimes the blemish (or pitting) is too large. Whilst functionally sound the rings are not asethicaly perfect and I sell these as seconds or use them on my demo bridles, or charity donations.The rings are then sent to a specialist polishing company who remove any surplus from the casting process, at this stage the rings are quite rough as they take on the texture of the sand, they have to be put through a series of polishing operations to produce the high quality shine of the finished product.
The leatherwork is designed to allow the most adjustment whilst allowing a bridle which is easy to put on and take off. The best materials available are used. Sedgewicks Englsih bridle leather and stainless steel fittings.Each leather strap is double hand stitched, this means that the hand stitch forms a knot inside the leather as the thread is turned over the needle on one side. This means that the stitch is so secure that, if the thread should snap anywhere the rest of the stiching would not come undone. The thread is also treated with beeswax (unlike machine thread) to prevent it from rotting.
The beta biothane versions are all made by a specialist beta bridle maker with many years experience of supplying to endurance riders.
It is hoped that the Orbitless bridle will last you and your horse a long time and become an essential piece of tack.