2016 Kerry & Peaches, Kaspara & Noah
Kerry and Sandhill Peaches (USA)
A Mid-Year Report from our Super Ambassador Kerry Louise Boucher 'I've been using the Orbitless for about 6 months now, with fabulous results on both my personal horses as well as clients/other family horses. I've found that the Orbitless fits a wide range of horses with lots of adjustment in both the noseband and the chin strap, the leather has held up wonderfully to repetitive use and after a couple of cleanings, is very soft and supple.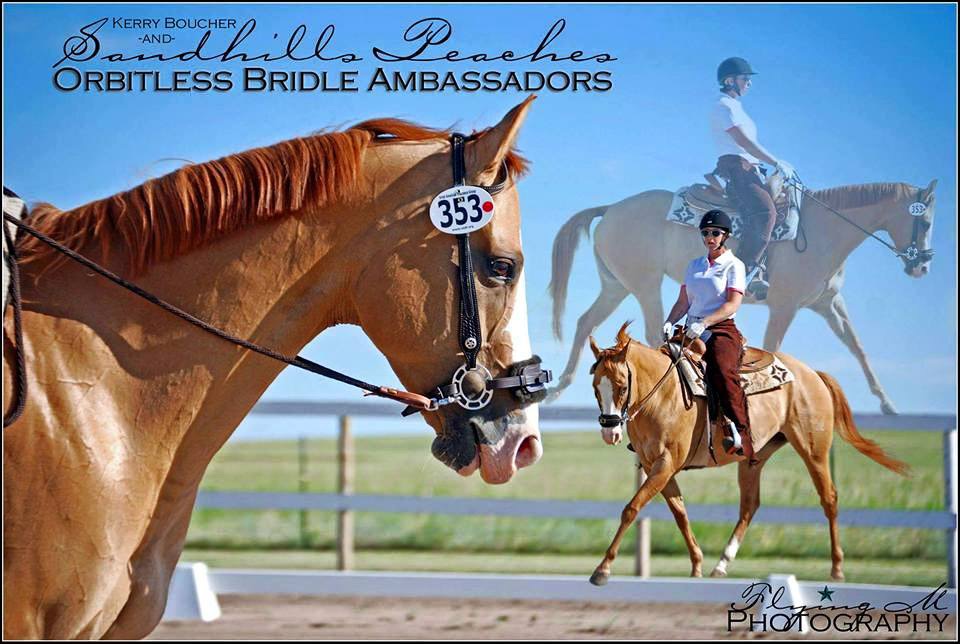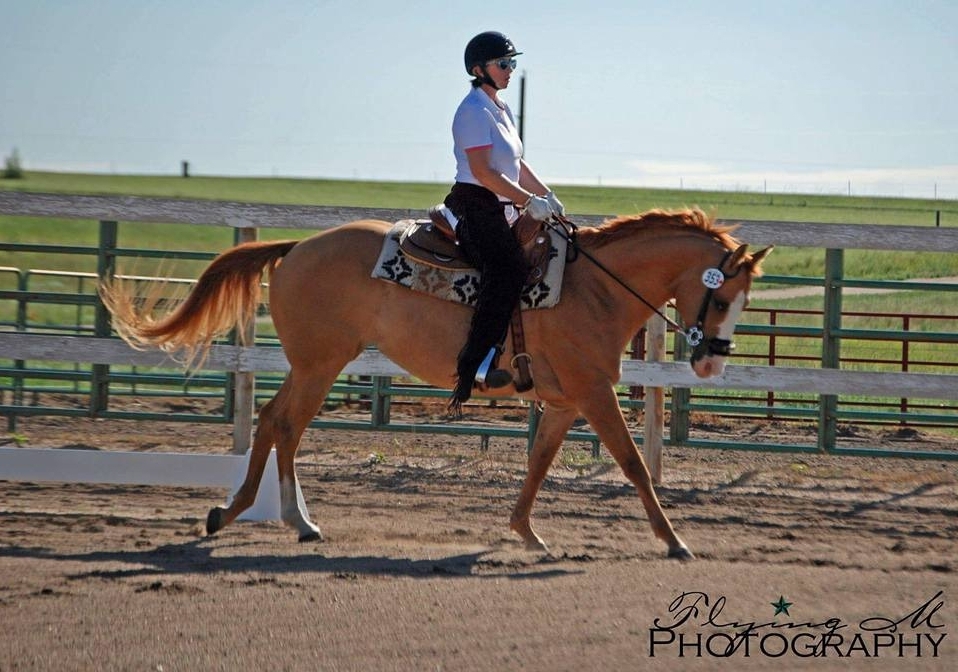 Orbitless bridles are very high quality products. I have not experienced any trouble with bending, lateral movements or collection in the Orbitless and have found that my mare is more responsive to my seat and leg aids with less 'static interference' from the bit. I've been competing almost monthly in online dressage competitions using the Orbitless, with very good results usually scoring in the mid to high 70's very consistently. My sensitive mare is much more relaxed in the Orbitless, she has a shallow palate and sensitive bars so the Orbitless is a perfect compromise for us! We're also competing in Western Dressage at Level 1 in the Orbitless, obtaining very good marks and scoring in the low to mid 70's consistently!!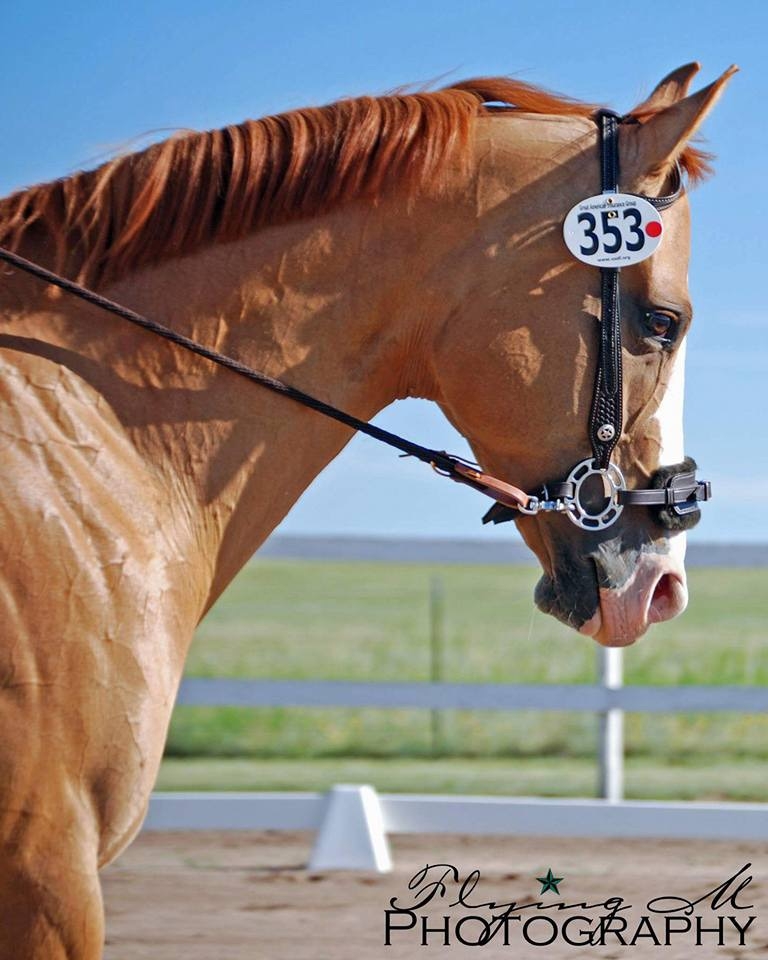 Although I do not personally do much jumping, the little bit I have done has been successful in the Orbitless. I have a fussy, hot mare that tends to over jump and throw her head before fences, catch herself with the bit etc., I have found that the Orbitless doesn't yield such a dramatic response from her and although she is still strong there is a reduced anxiety and more focus on what she is doing which is very pleasing! I feel like we can now enjoy pole work and low jumps as cross training without worrying about just 'surviving'.
I have not had any trouble with my mare leaning on the Orbitless in the connection, and have not needed to use it on anything but the mildest setting. I currently have it horizontally on the bridle which works better for us vs. the vertical arrangement. I plan on continuing to use the Orbitless for as many events as it is legal/allowed to be used, as well as schooling. Our second Western Dressage Show of the year is in 2 weeks and I am hoping to have pictures from it in the Orbitless, we will be competing at Level 1 again and working to improve from our last show. I also plan on continuing my online dressage showing where we are moving up to the harder Intermediate classes this month. '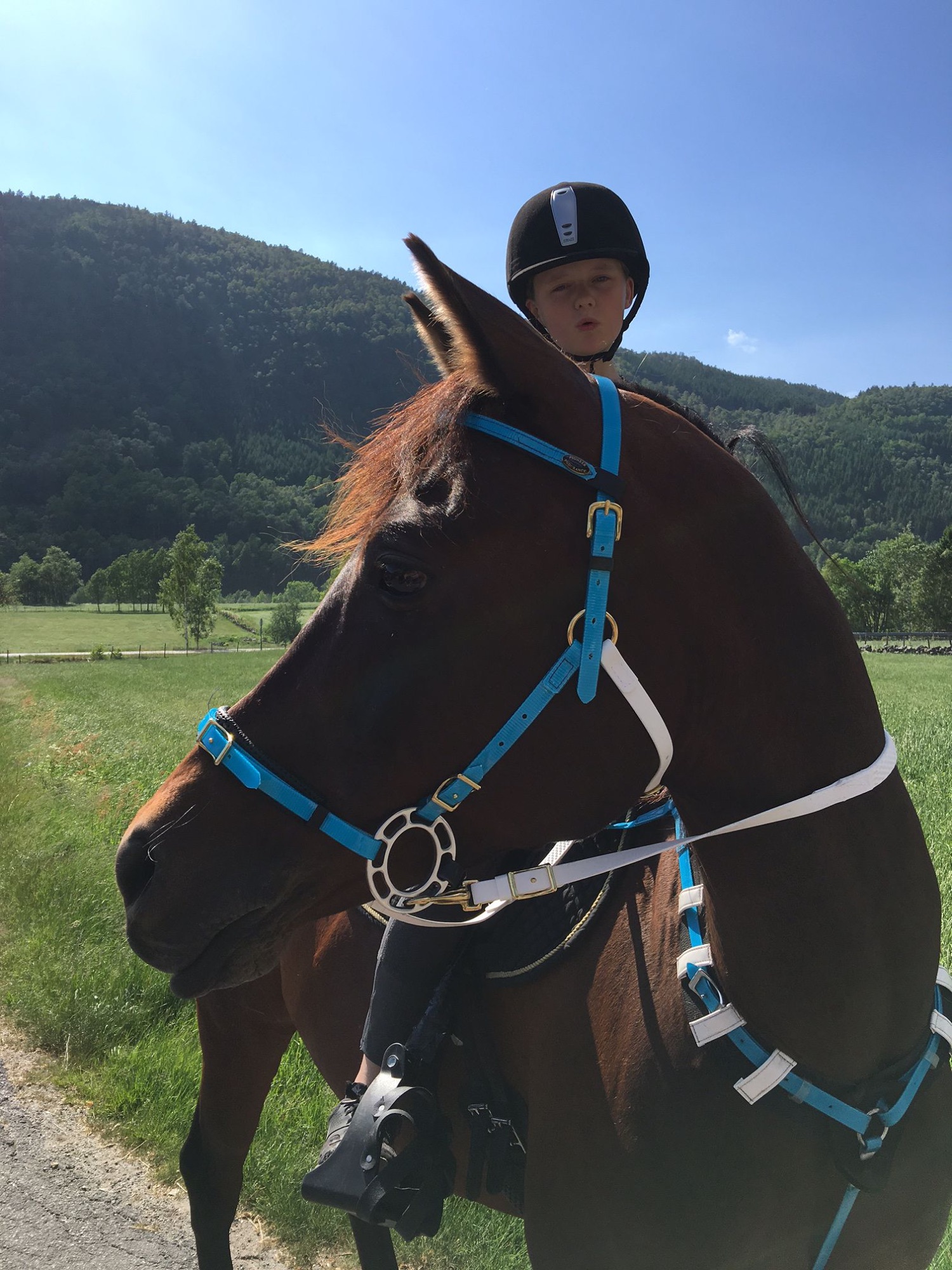 Kaspara and Noah - Junior Ambassadors (Norway)
Here is a small report from Norway.
I am Kaspara, 13 years, from the south of Norway. I was soo lucky to be choosen to be the Orbitless Junior Ambassador 2016. I had not much experience riding bitless before I was introduced to Orbitless bridle. Mostly I train for Endurance – and 2016 I have spent trying to qualify my Arabic SR Noah for international races next year. As Noah was new to me last year, I spent the last year to get to know him and started his training. Always using bit.
But as an endurance racer, I am very dependent on getting my horse to drink a lot during races, also during laps. All races has crewing points where my crew had prepared water for cooling and drinking. Wearing a bit does not always make it easy to drink. I have seen other bitless bridles, but when I was introduced to Orbitless, I found it very interesting as I had never seen anything like it before. When I was chosen to be the Junior ambassador, I was excited to try it. Unfortunately it did not fit my old endurance bridles, but by the help of Wendy at Orbitless I was directed to Pioneer Endurance bridles. I had a lot of help from them finding the perfect bridle – and finally I was ready to try.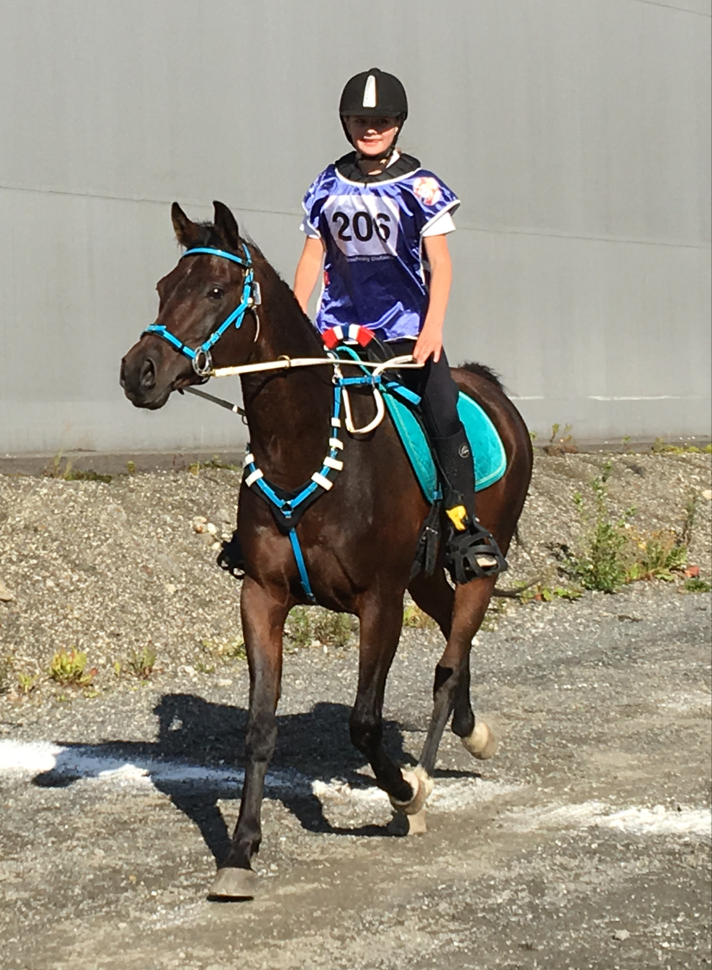 Training first – Noah responded really well to the Orbitless. I like using it cause he seems very happy with it. I had to get used to riding bitless – but more and more I am choosing the Orbitless. Of course it comes in very handy – Noah is free to eat and drink without having to remove the bridle (or at least the bit). At races this is very handy. During laps I only have a few minutes before the next lap starts – and with the orbitless I do not have to remore or change anything – Noah can eat and drink as without any bridle at all. Timesaving.
At races, I have not used the orbitless – due to the fact that Noah is very eager and difficult to hold, especially during the first lap. But two weeks ago I tried the Orbitless for the first time in a race. I rode the first lap using bit, but then during first break, I changed. It was amazing. During first lap Noah did not drink well, but then, after changing to orbitless, he started drinking. Noah was really fit throughout the entire 80kms, and had good scores at the vet gate. We won the entire race – Noah's second 80km – and now both me and Noah are qualified for international races.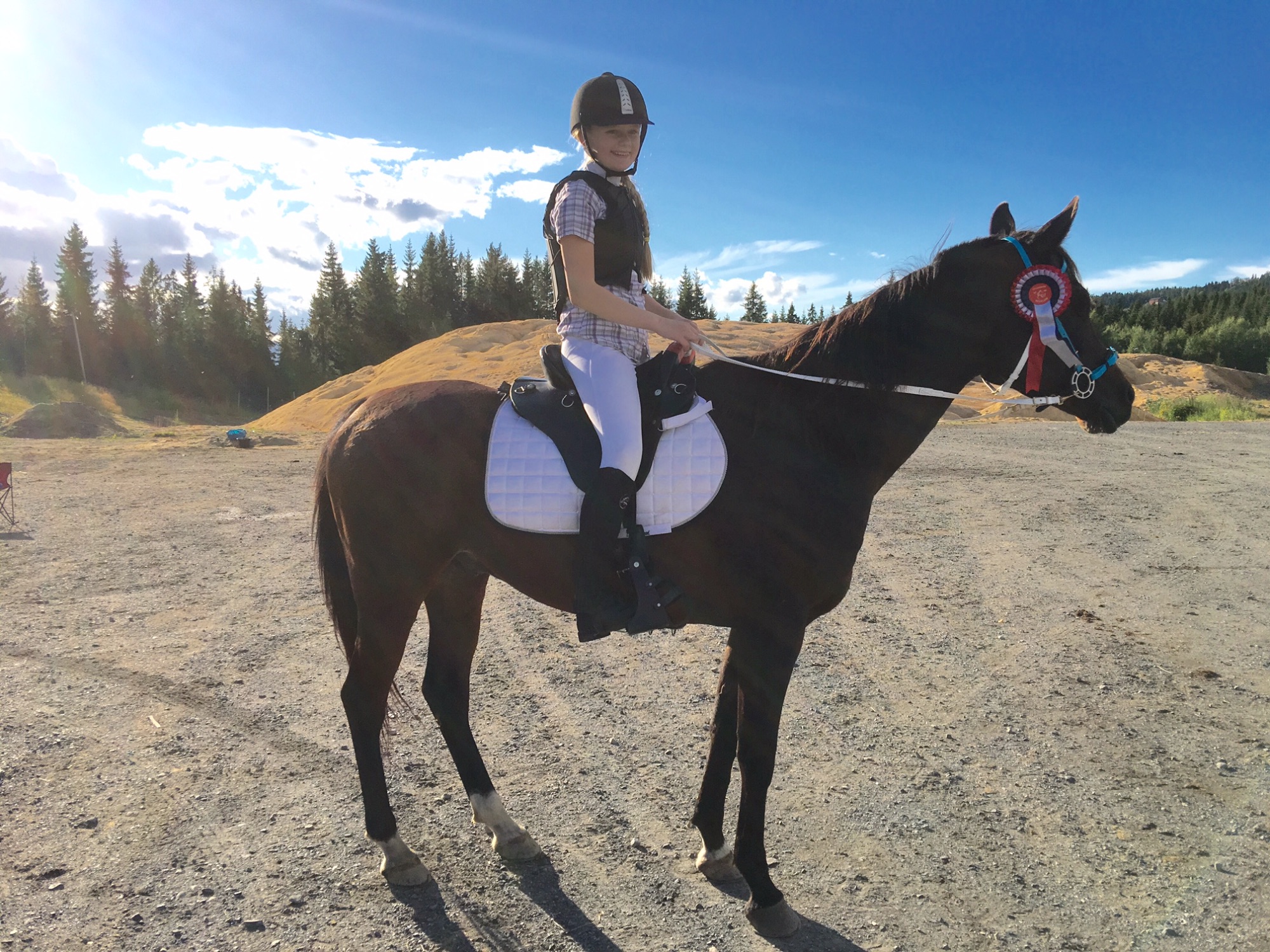 To conclude my experience with the orbitless so far: - Really great riding endruance when it comes to drinking, and I like the fact that the horse can grab a bite of hay or grass or carrots at a crewing point or during the trails - Adjustable strengh is very good - My horse is much more relaxed and satisfied using the orbitless - Slowing the horse down and turning works very well too.
Now Noah has done his major duties this year. The rest of the year he will just compete in some local CR races, and maybe some local dressage competitions, before training for next season and international races starts.
Thank you so much for giving me this opportunity to try the orbitless – I highly recommend it