Orbitless Fitting
To begin using your Orbitless Bridle, you will first need to attach it to the cheekpieces of a regular bridle.
Start by connecting the cheekpieces of your bridle through the slots midway between the noseband and chinstrap slots.
Attach the reins through the slots below the chinstrap (the reins can be attached in different positions), please click here for alternative configurations.
Disconnect the left hand side of the chinstrap before putting the bridle on your horses head.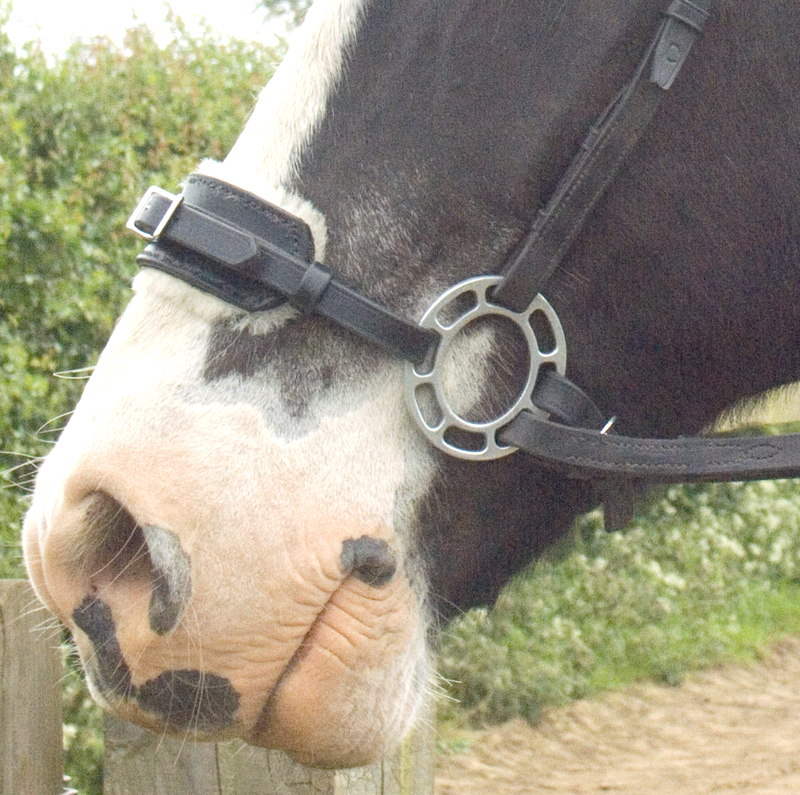 Adjust the cheekpieces and the noseband so that the ellipses are halfway between the prominent cheekbones and the corner of the mouth. Ensure that the nosepad is located centrally on the bony part of the nose.
Reconnect the left hand side of the chinstrap and tighten so that one finger can be comfortably inserted between the chinstrap and the jaw.
Hopefully, your bridle now matches the one in the photograph, if in doubt, please contact me.
Horses come in many shapes and sizes so the standard fitting instructions may need adjustment, or you might want to modify the fitting to get the best effect for your horse.
When adjusting the fiitting, ensure the ellipses are not fitted so high that they rub the cheekbones, or fitted so low that they rub the corners of the mouth. The noseband should never be fitted low enough to affect the horse's breathing.